By Spice and Style &nbsp&nbsp On : February 23, 2016
Zero Comment
I have already reviewed Farzi Cafe at Cyber Hub. That was the first branch and it indeed impressed me a lot. To know about my previous experience click on the link – FARZI CAFE, CYBER HUB review.
When Farzi finally came to CP, there was a lot of hype about  it. Delhi people were excited with high expectations from this place. I for once was happy to review a cafe which was different from others in the vicinity. Frankly I am done with dimly lighted cafe's playing loud music and serving pasta and sheesha. I was looking for that refreshing change where I could go with my family and enjoy a nice meal.  Farzi has always been a family restaurant. This place introduced molecular gastronomy to our uncle's and aunties. I find molecular gastronomy a big tme fad but if you are making sure the taste is not getting compromised then I am totally not complaining!
When I first walked in, I saw beautiful lamps hanging above and a classy decor to welcome me. A huge bar in the center  and a stage for live performances on one side, this place is beautifully done and the tables near the big open windows are my favorite.Yes, let the sunlight come in ( Thank god for that)!
3 things that totally improved my dining experience are- 1) Lot of sunlight and fresh air
2) Well trained and well dressed staff
3) Volume of the music good enough to have a proper                                                                                                                         conversation 🙂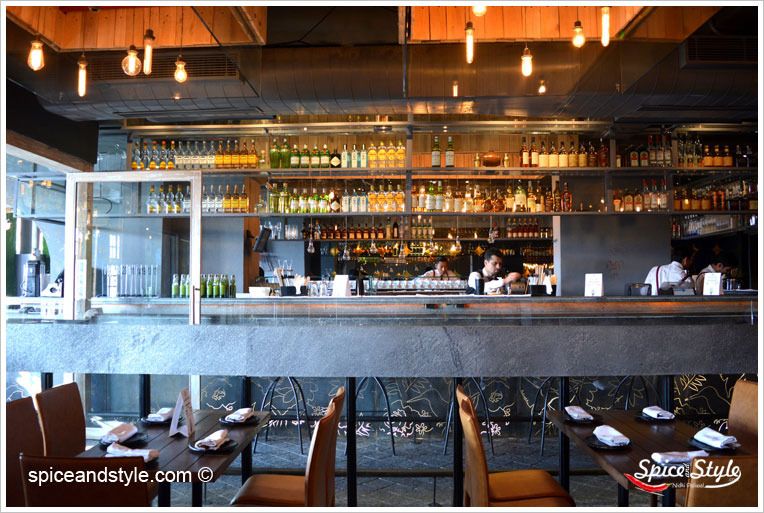 I tired a lot of cocktails amongst which the desi BANTA BOTTLES have to be my favorite. I tried the shikanji and aam papad flavours and the tangy refreshing taste left me craving for more! Trust me I can keep sipping these all day. 😉 CHAI PAANI which was the first on the table impressed me as well. It's apple and cinnamon reduction with Gin , filled with cinnamon smoke and served in a classic tea pot. Drinking this in a cutting chai glass gives you all the feels 😉 Loved it! Their signature FARZI APPLE FOMINTINI was something innovative and the foamy minty flavour I quite liked.What did not impress me a lot was the BANG BANG COCKTAIL. Too much drama over dry ice which literally results in nothing great.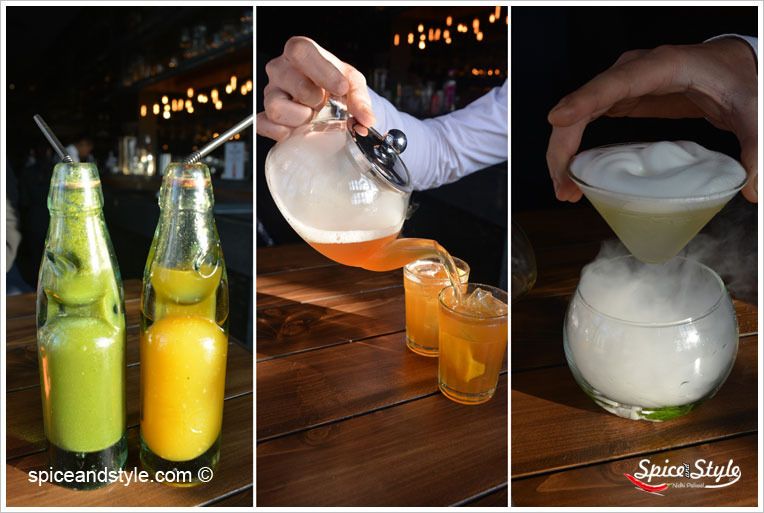 FOOD TALKS-
We started with the MINI IDLIS. These were sprinkled with gun powder and topped with nuts. Mini Idli's are always better than the basic ones. Loved the nibblers. Next on the table was the MAC N CHEESE PAKODAS. All the kids are defintely going to love it. The pine nuts Paddu did not impress me a lot. Oh, my favorite has to be the PANEER TIKKA with Thai flavours. The flavours were very prominant and I loved this new twist. So much better than the same old paneer tikka with mint chutney. For main course I was quite full and could only try the UPPAM which I must tell you isn't the basic one again. The reason behind this , you must find out yourself! Nevertheless the experiment was successful.
DESSERTS-
I tried 3 desserts out of which 2 were literally a piece of art. THE MILKY WAY DESSERT was prepared live in front of us by the chef.He nicely explained us about the milky way galaxy and big bang theory with live illustrations using delicious ingredients on the table. The table worked like an empty canvas and the chef amazingly created a beautiful edible mess for all of us. It consisted of marshmallows, chocolate balls, gems and edible micro greens etc.
Next was the CHOCOLATE DIRT/MUD– It was deconstructed chocolate cake with edible microgreens sprinkled on top. Topped with chocolate crunch and balls this dish looked and tasted amazing when hot chocolate was poured over it. I really liked it . Though not a fan of basic chocolates but this one totally nailed it. The greek dessert BAKLAVA with a twist was served too but I found it to be very average.
So overall I had an amazing experience. Though little expensive than the other common cafes in CP , this one is worth trying!