By Spice and Style &nbsp&nbsp On : December 10, 2015
Zero Comment
LOCATION – Sector-18, Noida
My first ever review in Noida (  My homeland lovely people)! I was really excited to visit this newly opened lounge and pub.I went with  high expectations hoping to finally visit a good place in Noida.THE FLAMING KICK lounge is located in the main sector-18 market, Noida.  All the known restaurant owners always prefer Delhi or Gurgoan as the prime location but thanks to Mr.Rishi we now have a good place to chill with friends in NOIDA!
The lounge is very spacious and I loved the bar area and the VIP sitting area but what really disappointed me was the normal seating area and the couches used in that area. The shiny red leather sofas were a eye sore  ( atleast for me)and the velvety chairs did not do any good either. Really wish they change the upholestery and It would bring such a good change to the place. The lighting and the colourful walls are really good though! I visited this place in the afternoon but am sure it looks way better at night in the dim lights .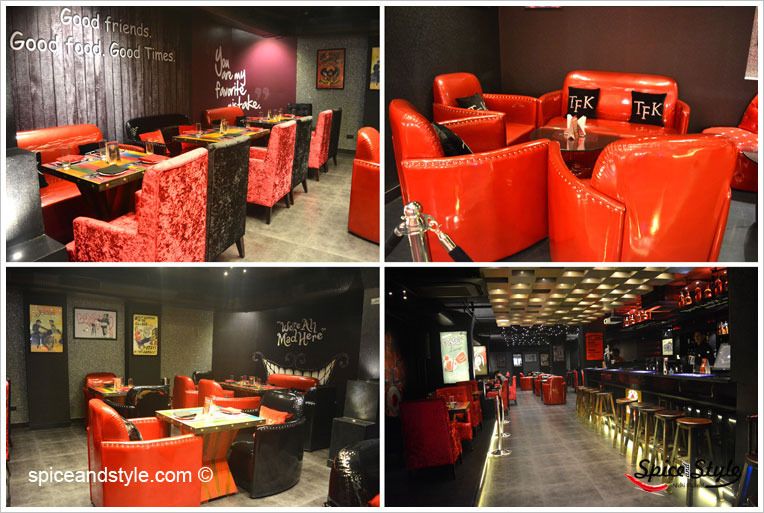 DRINKS-
I tried their FLAMING COSMO which was one of the best I have ever had! Trust me even I was taken aback. Then I tried the classic MAI TAI and WHISKEY SOUR. Mai Tai was really strong for me and I don't think I would order it again but the Whiskey sour was really good. Next I tried the VERY BERRY SMOOTHIE which was very average and tasted a little too sour.
FOOD-
I started my meal with a bowl of fresh salad. I ordered SOM TOM SALAD which is an Asian salad made up of spicy raw Papaya and toasted sesame. This salad was a little too spicy and a tad bit dry for me. Rest flavours were good though.Next on the table was the KEBAB PLATTER. It consisted of GALOUTI.HARA BHARA KEBAB, DAHI KE KEBAB and PANEER TIKKA. Everything on the platter was worth trying and did not disappoint one bit. Really lived up to my expectation!
Then I tried the PASTA AGLIO OILO PEPPERONCINO which had a dressing of olive oil,fresh red chillies,garlic,Capers and Parmesan. Hats off to the chef for getting this one right. Sometimes the simplest dishes are the most complicated ones. This pasta being so light and yet full of flavours was a total winner.
Finally came the PERI PERI PANEER BURGER. This one disappointed me a little. Really wish the burger had more dressing and veggies. This burger could have looked more appealing to eat but unfortunately didn't!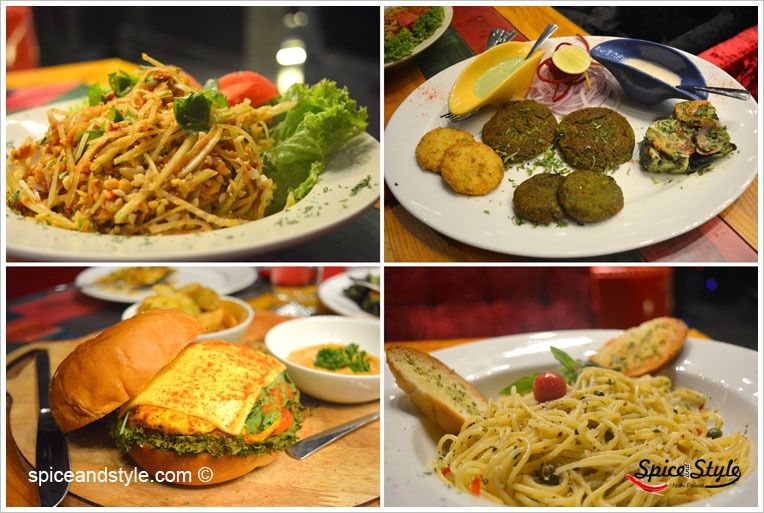 I also tried the CLASSIC TOMATIO AND OLIVE BRUSCHETTAS,they were topped with fresh basil , pesto and mozzerella! The flavour of fresh basil and pesto was quite prominent and this one could easily give competition to other places in Delhi serving the same dish.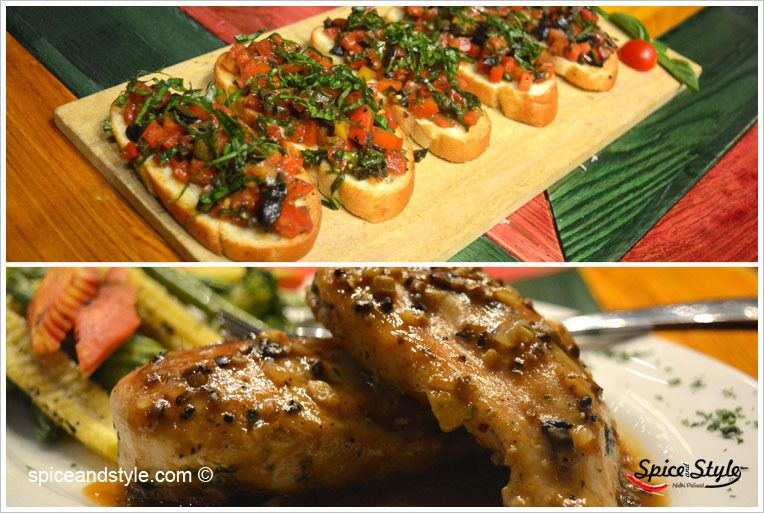 DESSERT–
The end was definitely the best part of the meal.APPLE CRUMBLE completely surprised me! The perfect crisp apple pie topped with a scoop of vanilla ice cream and toffee sauce with nuts and almonds served on the side was indeed a delicious dessert and a treat to both my eyes and the palate! I recommend this to everyone visiting the place. Totally stole the show for me. 🙂
Overall I had a really good experience and this one is surely better than the other similar places in Noida. Still a long way to go as it is a very new restaurant but am sure it's going to set high standards for the upcoming ventures in the city!