By Spice and Style &nbsp&nbsp On : December 1, 2015
Zero Comment
  " To invent, you need a good imagination and a pile of junk."
–  Thomas A. Edison
'THE JUNKYARD CAFE' is the latest venture by Mr.Umang Tewari. After the already successful ventures like The Vault cafe, Garam Dharam, this one is certainly a notch higher. Located at Cannaught Place in the heart of the city, this place is one of the most promising place in that vicinity. With new cafes opening up every other day in CP, it becomes hard to decide which one to go for. Some promise amazing ambience but the food is totally not worth it while others serve delicious food but fail to attract the youngsters due to lack of creativity. This cafe tries to balance both and kind of succeeds at it too. After a long time I experienced good food with a good view.
AMBIENCE– There is so much that I can write about the interiors. Hats off to the man behind the art installations and the creativity used. Pillars made of colourful tyres, life size plane hanging above you, iron man and robots made out of junk, beautiful Monalisa painting made out of micro junk parts, broken wine bottles used as lamp shades, wrenches welded into pieces of art, barrels decorating the bar and the waiters dressed up in dungarees and hats made for a great visual story depicting everything that a real junkyard is!
The cafe is spacious and even though it is dimly lighted, it lets you breathe and admire the beauty this place actually is. Unlike few other cafes in the same area where you need to flash a light to see the food on your own table! *true story*  I love theme restaurants and when a junkyard looks this pretty, its hard not to love it!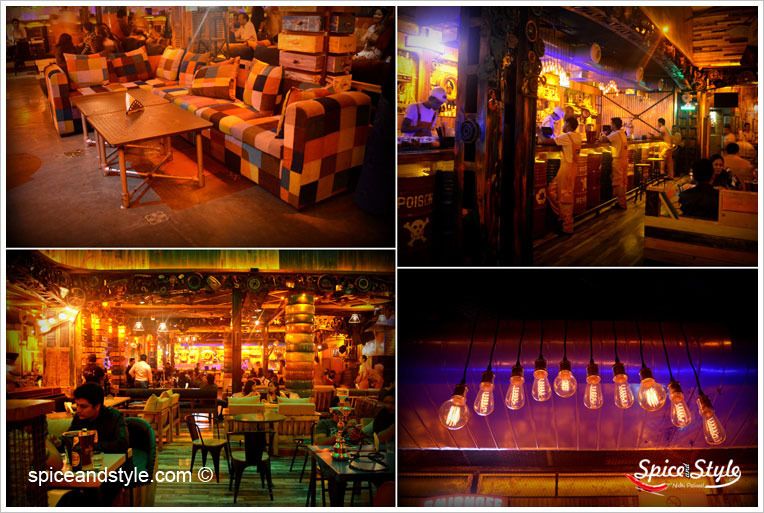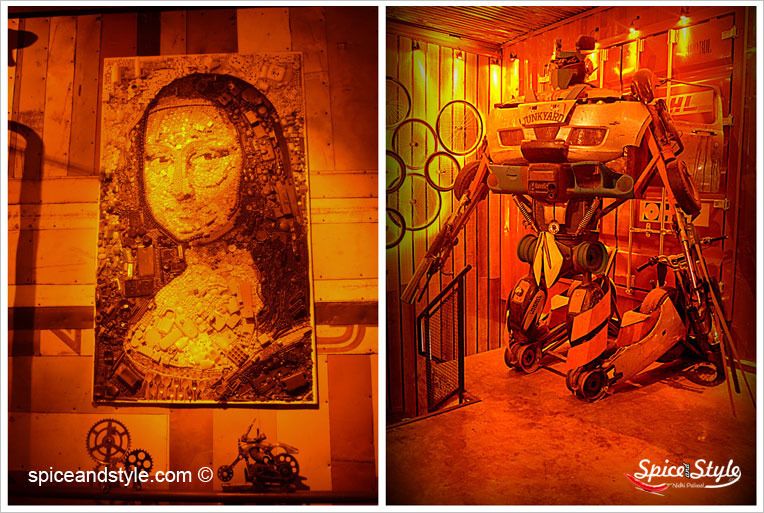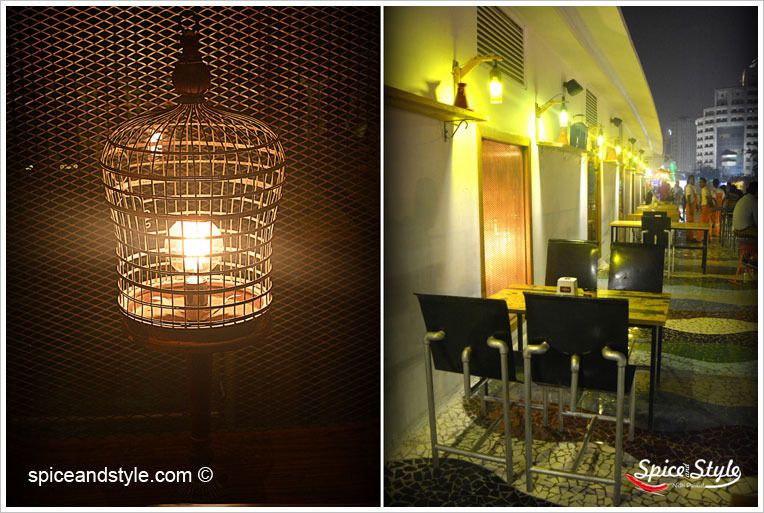 DRINKS- 
I started with the EDISON BULB drink which had white rum, elder flower, vanilla sugar, lime juice and rosemary. I loved the presentation and it tasted good but it finished before I started.May be they need to buy bigger bulbs!
Next were The GRAVEYARD COCKTAILS. I ordered SKELETON-2 and 3. One was vodka based with green melon while other was whiskey with cardamom. Skeleton 3 which had whiskey, cardamom,jasmine and pineapple juice was definitely a winner! My favorite from the evening. Finally the classic LIIT  came which was well made and pretty strong. That one LIIT was good enough to give you that happy vibe!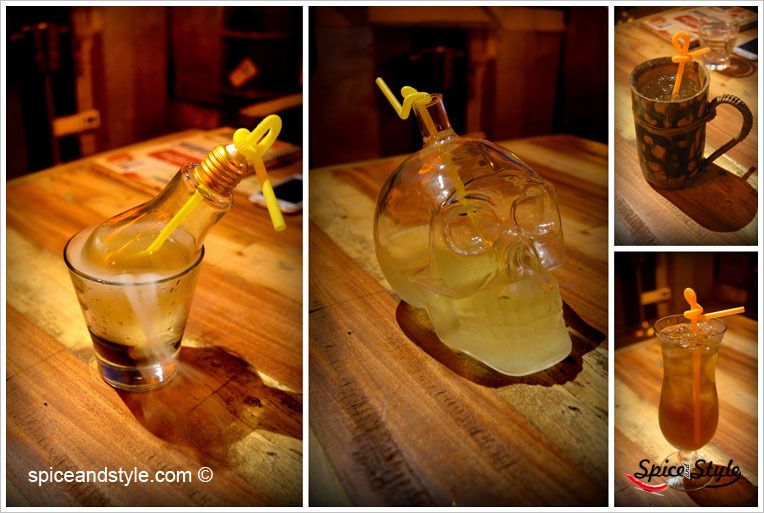 FOOD- All you health freaks can happily visit this cafe too. It has a special healthy menu with specific calories and nutritive values noted.  Rest of the menu consists of food options from various cuisines and a lot of comfort food.
I tried the WASABI PEAS ALOO TIKKI which was served with mint chutney and Wasabi Mayo. The wasabi mayo was homemade and I loved the flavors of the wasabi dip so much that I ordered extra. The tikki was perfect crisp from outside.Overall a great dish and something very different from the usual Paneer Tikka. Next on the table were LOADED NACHOS. During my first visit to this place I complaint about the sour cream being too watery but glad to see that during my recent visit they had actually improved on it. Also this time it had extra cheese and were truly loaded. I also tried the FETA CHEESE PARCELS because when its feta cheese I have to. The parcels were in shape of the famous festive Indian GUJIYA and the warm melted flowing cheese tasted nothing less than a celebration on my palate.
Last on the table was the PESTO SPAGHETTI.This was a tricky dish because if you can get a pesto sauce right then you actually know how to cook.Almost all the places fail to serve a good pesto pasta. But this one was definitely above average!
All you non vegetarians out there do not miss the CILANTRO AND PEANUT CHICKEN.Based on the review of my four crazy non vegetarian friends I can tell you that this dish is not to be missed!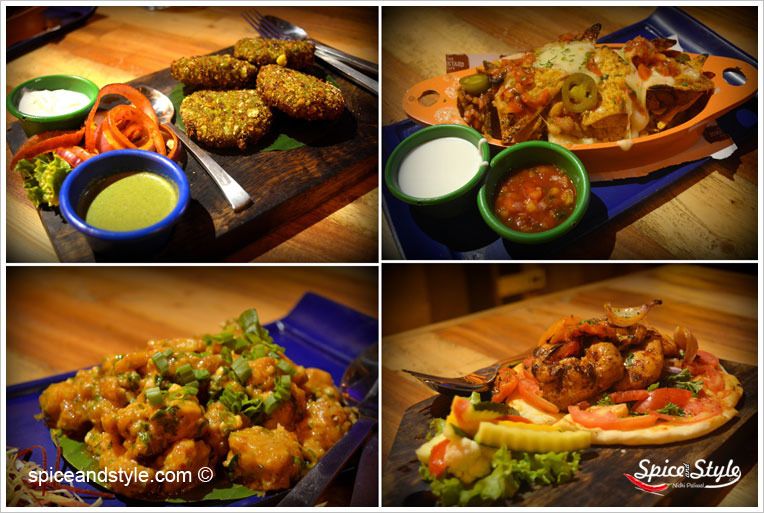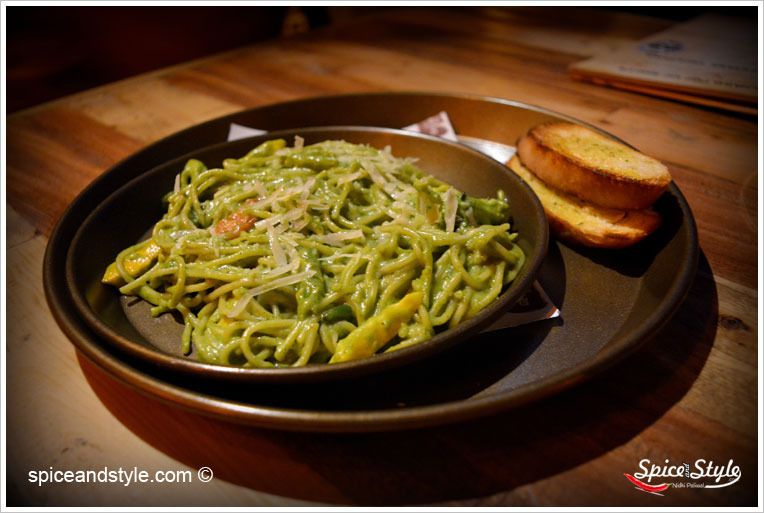 We ended the meal on a perfect sweet note with the CHEESECAKE! It was really good. I surely need to visit again to try the other dessert options.
OVERALL EXPERIENCE- Worth going and spending money on this place. They actually welcome family's on Sundays so if want your family to experience something different then take them here for a dinner night! I would surely go here again because this place is on my current favorites list 🙂