By Spice and Style &nbsp&nbsp On : September 30, 2015
Zero Comment
LOCATION – DIYA,THE LEELA AMBIENCE HOTEL, GURGAON
PRICE- Rs.3500 FOR TWO
SPECIALITY – NORTH INDIAN MENU SPECIALLY DESIGNED BY MASTER CHEF KUNAL KAPUR
Diya is an Indian speciality restaurant with an old world charm to it. It has a very traditional Indian royal palace look. The ambience is warm and friendly. With lovely sitar playing in the background and a sitar set up just next to the beautiful waterbody in the centre of the restaurant , it reminds you of everything calm and beautiful. It is a type of restaurant which your parents would definitely love. Very few restaurants give that warm homely vibe inspite of being in a 5 star hotel. This place is one of them . With MASTER CHEF Kunal Kapur's name attached to it, I had a lot of expectations from this place.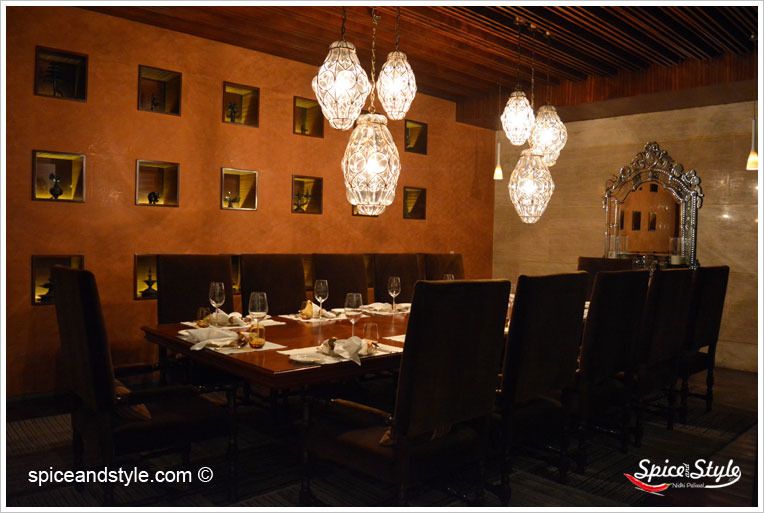 We started the succulent journey with the lip smacking AAM PANA which is made with raw mango. Then it was time for the starters. I tried the DAHI KE KEBABS. These are croquettes of spiced hung curd deepfried to a golden finish . Savoring taste of hung curd having light spices is just pure delight to the taste buds.
METHI PANEER TIKKA did not disappoint as well. Properly marinated with fenugreek (methi) and cooked to perfection in tandoor, the paneer was soft and yummy.
Next was the AMUSE BOUCHE. It's a small appetizer meant to tease the palate before the meal. It's complimentary and served according to the chef's selection alone. We were served a WATERMELON AND RASBERRY SHOOTER which was quite refreshing .
Then followed the DAL KA SHORBA. Dal never tasted so good. Yellow lentil soup flavoured with curry patta leaf and mustard ,finished with coconut cream.The new combination of flavours with that perfect spice saved it from being that boring shorba that we all generally love to skip in a meal. Trust me you do not want to miss this one!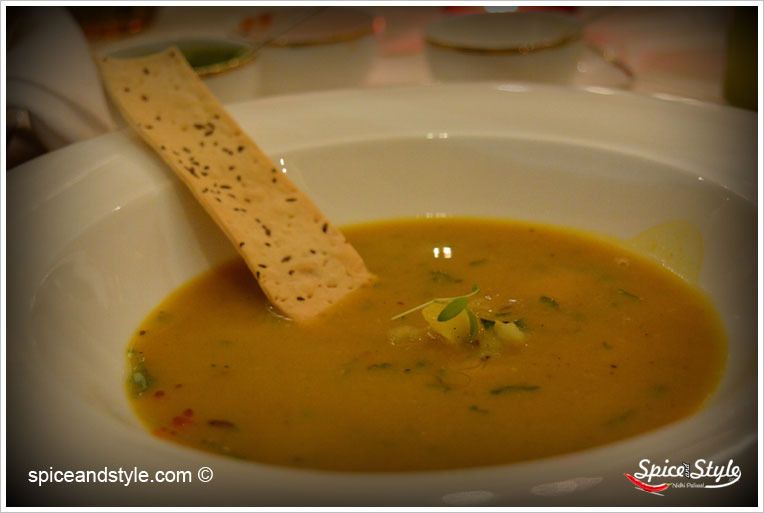 Just before the main course we were served with a SHERBET which was tamarind flavour. It was super tangy and had a reflreshing sour taste which worked great as a palate cleanser.
Finally the main course arrived.I tried the KHATTEY MEETHEY KOFTEY which had cottage cheese stuffed with apricots and was cooked in cashew gravy. The gravy was rich and creamy and the koftey were soft and light. Loved the dish!
Next main dish was BHUNEY PYAAZ KI SABZI. This dish could have been made in a better way. It had marinated whole onions cooked in tangy punjabi masala. Instead of whole onions I wish they had used half onions or may be smaller pieces. Though the masala was to die for. It was spicy and reminded me of the masala my mom makes at home when she makes stuffed karela's ! 😉
People who love spicy oily punjabi food would definitely like it. Their DAL MAKHANI was good too but nothing extra ordinary that I have not tasted before.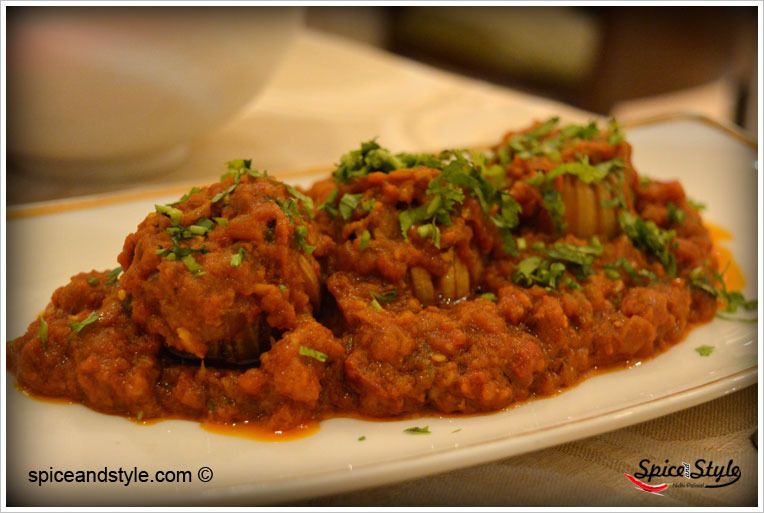 Then it was time for a sweet happy ending. We ordered ZAFRANI PHIRNI, GULAB JAMUN and MATKA KESAR KULFI. My favorite has to be the matka kesar kulfi. The saffron strands impart a unique taste to the dish. I did not quite liked the Phirni , may be because I have never liked phirni in my life! haha. But that's just me being me.
Overall I loved the place. This place will definitely make you come back again for more!