By Spice and Style &nbsp&nbsp On : January 26, 2016
Zero Comment
LOCATION – Lodhi Colony, Delhi
PRICE- Rs.3000 for two
As a Food Blogger we get to experience a lot of meals but rarely do we get to eat a meal that becomes an experience in itself.  Recently I tried out the Winter's special menu at Tres. TRES means three, standing for the best of 3 worlds – delicious food, exceptional ambience and impeccable service. It is a standalone Chef Lead Modern European restaurant with world flavours. Chef Julia and Chef Jatin, the executive chefs at Tres, are also the co-owners of this beautiful warm place.
The interiors are done beautifully in simple minimalistic wooden furniture. The earthy hues give a very warm vibe to the place. The restaurant can occupy somewhat around 40-45 people at a time. I also must mention that I LOVED the service. Servers who know what they are serving highly impress me and also makes it a much better experience for the customers.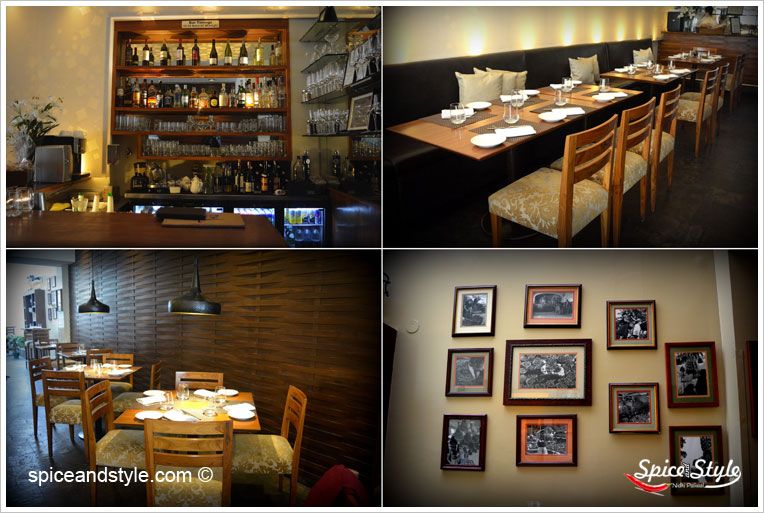 I opened up the menu and the first thing I noticed was the amazing WINE collection on the menu. I call myself a Wine lover even though I know I am still amateur when it comes to selecting the best Wine. So innocently I left it to the server to decide for me. He got us a glass of warm homemade spiced MULLED WINE and YORK SHIRAZ. The mulled wine was like a herbal magical drink slowly soothing my throat and soul 😉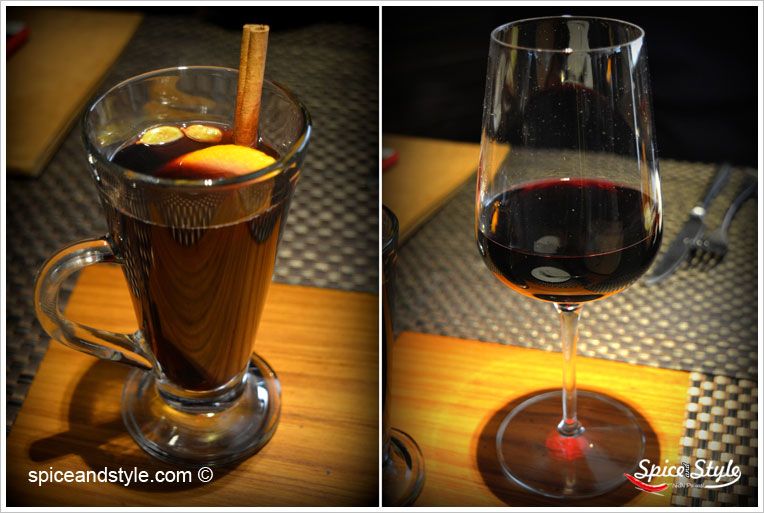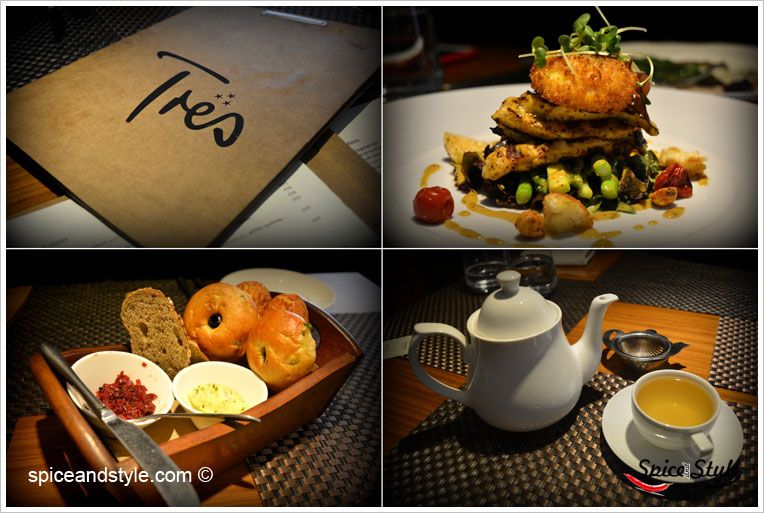 We started the meal with  Sproon valley mushrooms tossed with basil and garlic in olive oil. It was a really simple dish and the flavour of mushrooms was beautifully standing out. Simplicity at it's best! These people get these fresh and exotic mushrooms from our very own Solan district in Himanchal Pradesh. The variety impressed me a lot. Then there was Savory baked goat's cheesecake with salt roasted beetroot, orange, balsamic, micro beetroot sponge and apple-walnut dressing.The names are complicated I know but each component on the plate truly contributed to the flavour and presentation of the dish and ultimately it all made sense when I finished it all like a little mesmerized happy kid.
Also tried the Mushroom croquettes with salsa brava. So soft, rich and creamy from inside; I enjoyed every bite!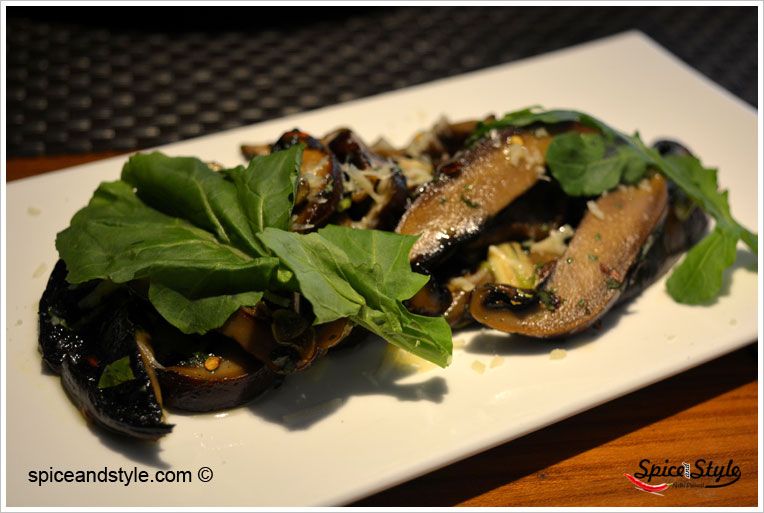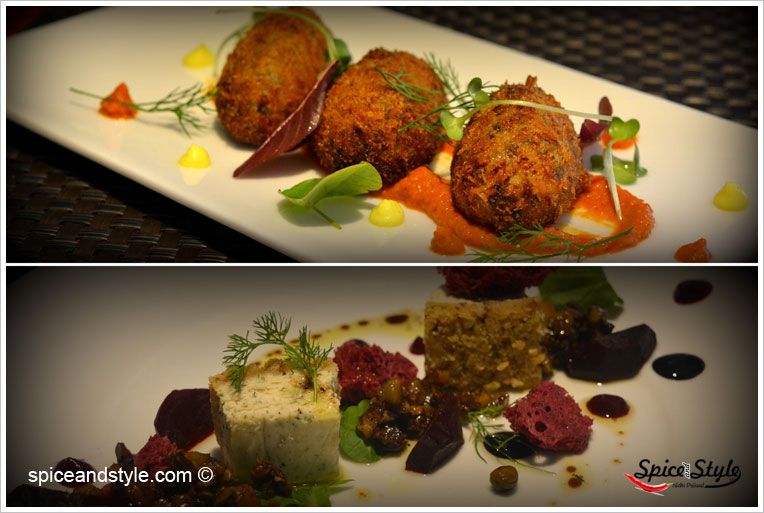 For main course we had Grilled vegetables and phyllo tart with parmesan custard and home-made tomato relish and a little of pesto sauce. The crispy tart combined with the grilled veggies was something different but all I really cared about were the colourful veggies waiting for me. Then followed the Parisienne gnocchi, maple roasted butternut squash puree, nut brown butter, parmesan tuille with basil oil. The puree was delicious! So light and perfectly complimenting the gnocchi.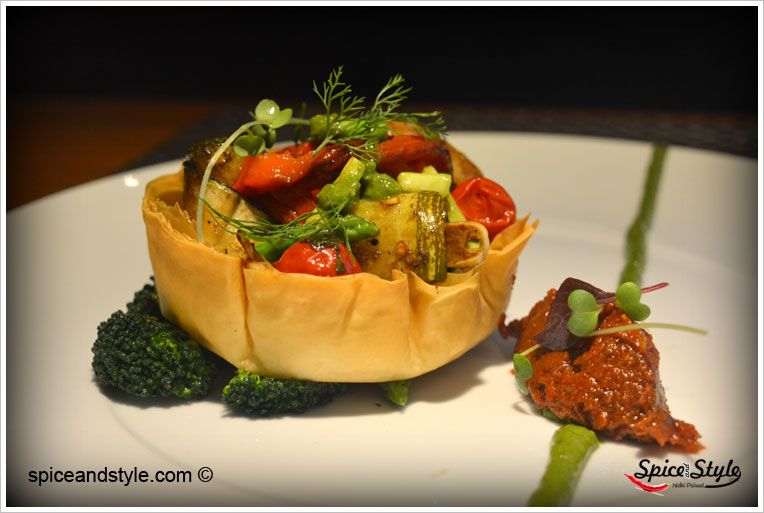 Then there was CREME BRULEE A LA TRES , made up of  vanilla bean brulee, citrus sponge, homemade marmalade and toasted almonds ; it was a burst of flavours that blew my mind away. Loved this dessert! Must try you all. After this came the fresh STRAWBERRY AND YOGHURT PANNACOTTA with a twist of strawberry basil salsa. This was again a very refreshing dessert that actually gets you ready for the next meal again! haha.
So, overall I had a wonderful time at the peaceful serene restaurant. Even though the name of the dishes and ingredients are confusing, the flavours are as sorted and simple as it could be. So if you want to experience simple yet flavourful and different European food then you MUST visit this place.